Manufactured by the high standards of all Safety Zone products, our customers continue to let us know these aprons are a top choice! 
Our disposable aprons come in an assortment of styles and colors to meet the individual needs of your facility.
Ask us about our heavy duty nitrile aprons to protect your workers even in the most demanding food environments.
Because of our strict standards, the same high quality product you purchase today will be the exact same quality one year from now.
Made with FFDCA compliant materials to keep food and workers safe.
MSDS sheets available upon request.
Emergency delivery service at no extra charge for our established customers.
Check out our testimonials and see what customers are saying about Majestic!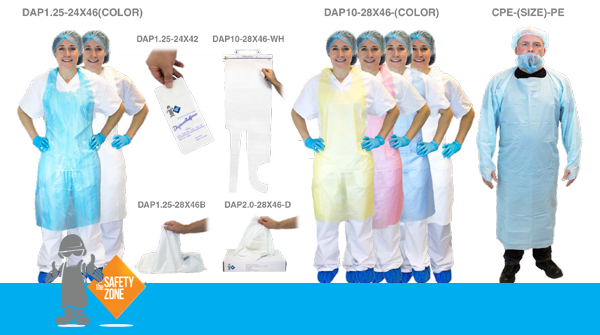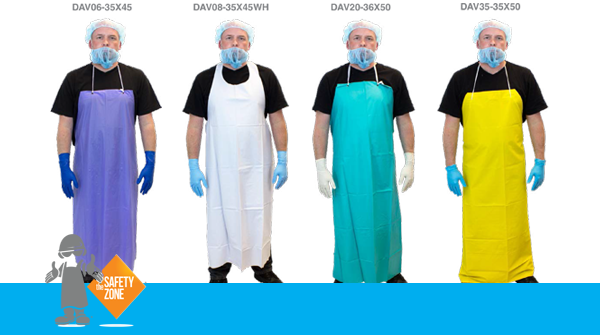 | | | | | |
| --- | --- | --- | --- | --- |
| MODEL # | DESCRIPTION | MIL | SIZE | PER/BX/CS |
| DAP1.25-24X42 | White Apron | 1.25 | 24"x42" | 100BX 10BX/CS |
| DAP1.25-28X46 | White Apron | 1.25 | 28"x46" | 100BX 10BX/CS |
| DAP1.25-28X46B | White Apron | 1.25 | 28"x46" | 100BX 10BX/CS |
| DAP1.25-28X46BL | Blue Apron | 1.25 | 28"x46" | 100BX 10BX/CS |
| DAP2.0-28X46-D | White Apron, Dispenser Boxed | 2 | 28"x46" | 100BX 10BX/CS |
| DAP2.0-28X46DBL | Blue Apron, Dispenser Boxed | 2 |  28"x46" | 100BX 10BX/CS |
| DAP10-28X46-WH | White High Density Apron | 10 | 28"x46" | 100/Header 10Headers/CS |
| DAP10-28X46-BL | Blue High Density Apron | 10 | 28"x46" | 100/Header 10Headers/CS |
| DAP10-28X46-RD | Red High Density Apron | 10 | 28"x46" | 100/Header 10Headers/CS |
| DAP10-28X46-YE | Yellow High Density Apron | 10 | 28"x46" | 100/Header 10Headers/CS |
| DAPP-28X36-100 | White Polypropylene Apron | 4 | 28"x46" | 100/CS |
| DAPP-28X36-PE | White Polyethylene Coated Polypropylene Apron | 8 | 28"x46" | 100/CS |
| CPE-LG-PE Blue Cast | Polyethylene "CPE" Apron, Thumb Hole Sleeves | 3 | LG | 100/CS |
| CPE-XL-PE Blue Cast | Polyethylene "CPE" Apron, Thumb Hole Sleeves | 4 | XL | 100/CS |
| DAV06-35X45 | Blue Raw Edge Vinyl Apron, String Ties | 6 | 35"X45" | 6 DZ/CS |
| DAV06-35X45-DC | Blue Die Cut Vinyl Apron | 6 | 35"X45" | 6 DZ/CS |
| DAV06-35X45WH | Raw Edge White Vinyl Apron, String Ties | 6 | 35"X45" | 6 DZ/CS |
| DAV08-35X45WH | White Die Cut Vinyl Apron | 8 | 35"X45" | 6 DZ/CS |
| DAV20-36X50 | Green PVC Apron, Stomach Patch | 20 | 36"X50" | Sold Individually |
| DAV35-35X50  | Yellow Vinyl Reinforced, Polyester Apron | 35 | | Sold Individually |