These chemical resistant gloves can be used for many applications beyond just general cleanup and food preparation.
Some styles offer increased resistance to animal fats and other styles offer better protection from different chemicals.
Call us and we can help you find the right glove for your usage and needs.
Because of our strict standards, the same high quality product you buy today will be the exact same quality a year from now.
All Materials used comply with the provisions of the FD&C which allow for repeated use in direct contact with food.
MSDS sheets available upon request.
Emergency delivery service at no extra charge for our established customers.
Check out our testimonials and see what customers are saying about Majestic!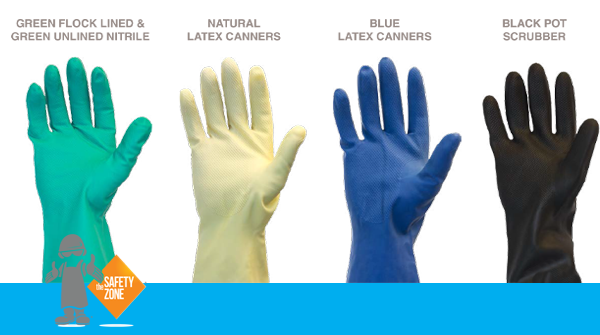 Manufactured by the high standards of all Safety Zone products.
| | | | | |
| --- | --- | --- | --- | --- |
| MODEL # | DESCRIPTION | MIL | SIZE | PER/BX/CS |
| GRFY-(SIZE)-2E -12 MIL-Yellow | Flock Lined Latex-One Pair Per Bag | 12 | SM-XL | 12DZ/CS |
| GRFY-(SIZE)-1B -16 MIL-Yellow | Flock Lined Latex-Bulk Packed Twelve Pair Per Bag | 16 | SM-XL | 10DZ/CS |
| GRFY-(SIZE)-1C -16 MIL-Yellow | Flock Lined Latex-One Pair Per Bag | 16 | SM-XL | 10DZ/CS |
| GRFY-(SIZE)-2X-1C -16 MIL-Yellow | Flock Lined Latex-One Pair Per Bag | 16 | 2X | 10DZ/CS |
| GRFY-(SIZE)-1S -18 MIL-Yellow | Flock Lined Latex-One Pair Per Bag | 18 | SM-XL | 10DZ/CS |
| GRFY-(SIZE)-2T-R/C -20 MIL-Yellow | Flock Lined Latex-Chlorinated-One Pair Per Bag | 20 | SM-XL | 12DZ/CS |
| GRFY-(SIZE)-4CR -16 MIL-Yellow | Retail Packed Flock Lined Latex-One Pair Per Bag | 16 | SM-XL | 100/BX 10BX/CS |
| GRFL-(SIZE)-1S -18 MIL-Blue | Flock Lined Latex-One Pair Per Bag | 18 | XS-XL | 10DZ/CS |
| GRFL-(SIZE)-2T-R/C -20 MIL-Blue | Flock Lined Latex-Chlorinated-One Pair Per Bag | 20 | SM-XL | 12DZ/CS |
| GRFL-(SIZE)-1C -16 MIL-Purple | Flock Lined Latex-One Pair Per Bag | 16 | SM-XL | 10DZ/CS |
| GRLY-(SIZE)-1SF -28 MIL-Blue | Flock Lined Neoprene Over Yellow Latex-One Pair Per Bag | 28 | SM-XL | 10DZ/CS |
| GRFO-(SIZE)-1SF -28 MIL-Orange | Flock Lined Neoprene Latex Blend-One Pair Per Bag | 28 | SM-XL | 10DZ/CS |
| GNGF-(SIZE)-15C -15 MIL-Standard Green | Flock Lined Nitrile-One Pair Per Bag | 15 | SM-XL | 12DZ/CS |
| GNGF-(SIZE)-2X-15C -15 MIL-Standard Green | Flock Lined Nitrile-One Pair Per Bag | 15 | 2x | 12DZ/CS |
| GNGF-(SIZE)-15 -15 MIL-Premium Green | Flock Lined Nitrile-One Pair Per Bag | 15 | SM-XL | 12DZ/CS |
| GNGF-(SIZE)-2X-15 -15 MIL-Premium Green | Flock Lined Nitrile-One Pair Per Bag | 15 | 2x | 12DZ/CS |
| GVP9-(SIZE)-1YE | Nitrile Unlined-One Pair Per Bag | 11 | SM-XL | 12DZ/CS |
| GNGU-(SIZE)-11 -11 MIL-Premium | Green Nitrile Unlined-One Pair Per Bag | 11 | SM-XL | 12DZ/CS |
| GNGU-(SIZE)-22-18 -22 MIL-18" Green | Unlined Nitrile-One Pair Per Bag | 22 | MD-2X | 3DZ/CS |
| GRCA-(SIZE)-1 -14 MIL-Amber | Unlined Canner Latex-Chlorinated-One Pair Per Bag | 14 | SM-XL | 10DZ/CS |
| GRCA-(SIZE)-1SF -18 MIL-Amber | Unlined Canner Latex-Chlorinated-One Pair Per Bag | 18 | XS-XL | 10DZ/CS |
| GRCL-(SIZE)-1 -14 MIL-Blue | Unlined Latex Canner-Chlorinated-One Pair Per Bag | 14 | SM-XL | 10DZ/CS |
| GRCL-(SIZE)-1SF -18 MIL-Blue | Unlined Latex Canner-Chlorinated-One Pair Per Bag | 18 | SM-XL | 10DZ/CS |
| GRBU-(SIZE)-6T -40 MIL-16" Black | Heavy Duty Latex Pot Scrubber-One Pair Per Bag | 40 | LG-XL | 6DZ/CS |
| GRFB-(SIZE)-1S -28 MIL-Black | Flock Lined Neoprene Latex Blend-One Pair Per Bag | 28 | SM-XL | 10DZ/CS |