Our coveralls meet the requirements for handling of human food in both the manufacturing and packaging phases of production.
Majestic Offers a variety of coveralls and protective clothing in different thicknesses and materials.
For more comfort and protection, choose our breathable barrier and SMS coveralls.
We also stock several kinds of Dupont Tyvek products as seen below.
MSDS sheets available upon request.
Emergency delivery service at no extra charge for our established customers.
Check out our testimonials and see what customers are saying about Majestic!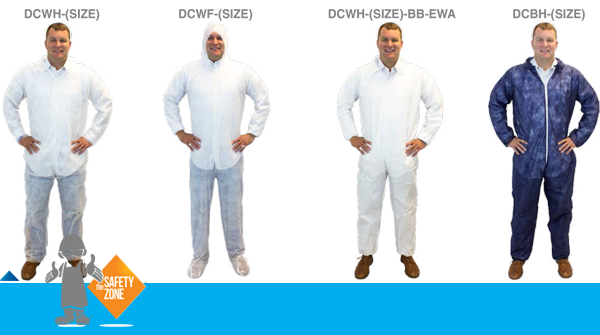 | | | | | |
| --- | --- | --- | --- | --- |
| MODEL # | DESCRIPTION | MIL | SIZE | PER/BX/CS |
| DCWH-(SIZE) White | Disposable Polypropylene Coverall, No Hood or Elastic | | MD-3X | 25/CS |
| DCWH-(SIZE)-40EWA White | 40 Gram Polypropylene Coverall, Elastic Wrists & Ankles | | MD-3X | 25/CS |
| DCWH-(SIZE)-SMSEWA White | SMS Polypropylene Coverall, Elastic Wrists & Ankles | | MD-3X | 25/CS |
| DCBH-(SIZE) Blue | Disposable Polypropylene Coverall, No Hood or Elastic Wrists | | MD-5X | 25/CS |
| DCBH-(SIZE)-SMSEWA Blue | SMS Polypropylene Coverall, Elastic Wrists & Ankles | | MD-5X | 25/CS |
| DCWF-(SIZE) White | Disposable Polypropylene Coverall, Hood, Boots & Elastic Wrist | | MD-5X | 25/CS |
| DCWF-(SIZE)-40 White | 40 Gram Disposable Polypropylene Coverall, Hood, Boots & Elastic Wrist | | MD-5X | 25/CS |
| DCWF-(SIZE)-SMS White | 50 Gram SMS Polypropylene Coverall, Hood, Boots & Elastic Wrist | | LG-5X | 25/CS |
| DCBF-(SIZE) Blue | Disposable Polypropylene Coverall, Hood, Boots & Elastic Wrist | | MD-5X | 25/CS |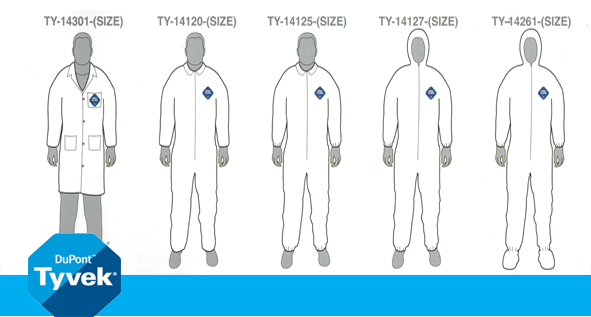 | | | | | |
| --- | --- | --- | --- | --- |
| MODEL # | DESCRIPTION | MIL | SIZE | PER/BX/CS |
| TY-14301-(SIZE) White | Dupont™ Tyvek® Lab Coat, 3 Pockets | | MD-XL | 30/CS |
| TY-14301-(SIZE)-2X | Dupont™ Tyvek® Lab Coat, 3 Pockets | | 2X | 30/CS |
| TY-14120-(SIZE) White | Dupont™ Tyvek® Coverall, No Hood or Elastic Wrists | | MD-XL | 25/CS |
| TY-14120-(SIZE)-2X White | Dupont™ Tyvek® Coverall, No Hood or Elastic Wrists | | 2X | 25/CS |
| TY-14120-(SIZE)-3X White | Dupont™ Tyvek® Coverall, No Hood or Elastic Wrists | | 3X | 25/CS |
| TY-14120-(SIZE)-4X White | Dupont™ Tyvek® Coverall, No Hood or Elastic Wrists | | 4X | 25/CS |
| TY-14125-(SIZE) White | Dupont™ Tyvek® Coverall, Elastic Wrists & Ankles | | MD-XL | 25/CS |
| TY-14125-(SIZE)-2X White | Dupont™ Tyvek® Coverall, Elastic Wrists & Ankles | | 2X | 25/CS |
| TY-14125-(SIZE)-3X White | Dupont™ Tyvek® Coverall, Elastic Wrists & Ankles | | 3X | 25/CS |
| TY-14125-(SIZE)-4X White | Dupont™ Tyvek® Coverall, Elastic Wrists & Ankles | | 4X | 25/CS |
| TY-14127-(SIZE) White | Dupont™ Tyvek® Coverall, Hood, Elastic Wrists & Ankles | | MD-XL | 25/CS |
| TY-14127-(SIZE)-2X White | Dupont™ Tyvek® Coverall, Hood, Elastic Wrists & Ankles | | 2X | 25/CS |
| TY-14127-(SIZE)-3X White | Dupont™ Tyvek® Coverall, Hood, Elastic Wrists & Ankles | | 3X | 25/CS |
| TY-14127-(SIZE)-4X White | Dupont™ Tyvek® Coverall, Hood, Elastic Wrists & Ankles | | 4X | 25/CS |
| TY-14261-(SIZE) White | Dupont™ Tyvek® Coverall, Hood & Boots | | MD-XL | 25/CS |
| TY-14261-(SIZE)-2X White | Dupont™ Tyvek® Coverall, Hood & Boots | | 2X | 25/CS |
| TY-14261-(SIZE)-3X White | Dupont™ Tyvek® Coverall, Hood & Boots | | 3X | 25/CS |
| TY-14261-(SIZE)-4X White | Dupont™ Tyvek® Coverall, Hood & Boots | | 4X | 25/CS |
| TY-14261-(SIZE)-5X White | Dupont™ Tyvek® Coverall, Hood & Boots | | 5X | 25/CS |