Our smock is economical and latex free and is perfect for medical environments, labs and isolation rooms.
Offered in a variety of colors, it is a lightweight and comfortable and offers adequate protection.
MSDS sheets available upon request.
Emergency delivery service at no extra charge for our established customers.
Check out our testimonials and see what customers are saying about Majestic!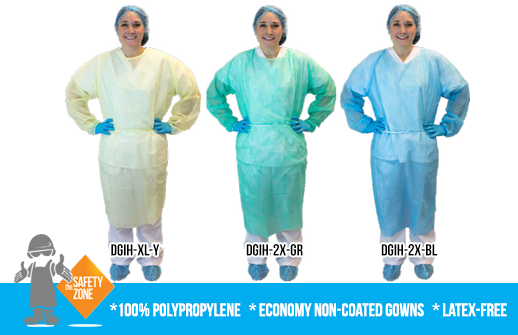 Manufactured by the high standards of all Safety Zone products.
| | | | | |
| --- | --- | --- | --- | --- |
| MODEL # | DESCRIPTION | MIL/GRAM | SIZE | PER/BX/CS |
| DGIH-XL-Y | YELLOW-Disposable Smocks (Economy) | 28 grams/1 oz | XL | 50/CS |
| DGIH-2X-GR | GREEN-Disposable Smocks (Economy) | 28 grams/1 oz | 2XL | 50/CS |
| DGIH-2X-BL | BLUE-Disposable Smocks (Economy) | 28 grams/1 oz | MD-XL | 50/CS |