Our hairnets are reliable, comfortable and come in various styles and sizes.
For your comfort, these are available in either heavyweight polyester or a lighter weight nylon, and come in white, brown and black.
Because of our strict standards, the same high quality product you purchase today will be the exact same quality one year from now.
Made with FFDCA compliant materials to keep food and workers safe.
MSDS sheets available upon request.
Emergency delivery service at no extra charge for our established customers.
Check out our testimonials and see what customers are saying about Majestic!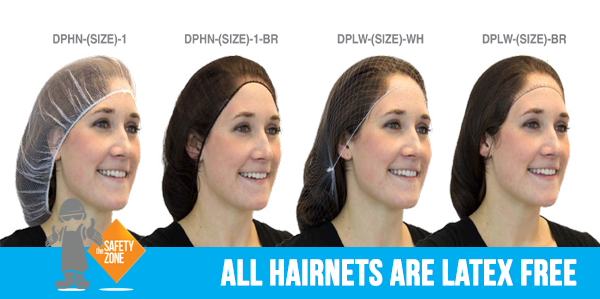 Manufactured by the high standards of all Safety Zone products.
| | | | | |
| --- | --- | --- | --- | --- |
| MODEL # | DESCRIPTION | MIL | SIZE | PER/BX/CS |
| DPHN-18-1 18" White | Heavyweight Polyester Hairnet |   | 18" | 100/BG 10BG/CS |
| DPHN-21-1 21" White | Heavyweight Polyester Hairnet |   | 21" | 100/BG 10BG/CS |
| DPHN-24-1 24" White | Heavyweight Polyester Hairnet |   | 24" | 100/BG 10BG/CS |
| DPHN-27-1 27" White | Heavyweight Polyester Hairnet |   | 27" | 100/BG 10BG/CS |
| DPHN-32-1 32" White | Heavyweight Polyester Hairnet |   | 32" | 100/BG 10BG/CS |
| DPHN-18-1-BR 18" Brown | Heavyweight Polyester Hairnet |   | 18" | 100/BG 10BG/CS |
| DPHN-21-1-BR 21" | Brown Heavyweight Polyester Hairnet |   | 21" | 100/BG 10BG/CS |
| DPHN-24-1-BR 24" | Brown Heavyweight Polyester Hairnet |   | 24" | 100/BG 10BG/CS |
| DPHN-27-1-BR 27" | Brown Heavyweight Polyester Hairnet |   | 27" | 100/BG 10BG/CS |
| DNHN-18-1-RB 18" White | Fine Mesh Nylon Hairnet |   | 18" | 100/BG 10BG/CS |
| DNHN-21-1-RB 21" White | Fine Mesh Nylon Hairnet |   | 21" | 100/BG 10BG/CS |
| DNHN-24-1-RB 24" White | Fine Mesh Nylon Hairnet |   | 24" | 100/BG 10BG/CS |
| DNHN-27-1-RB 27" White | Fine Mesh Nylon Hairnet |   | 27" | 100/BG 10BG/CS |
| DPLW-22-BK 22" Black | Lightweight Nylon Hairnet |   | 22" | 144/BX 10BX/CS |
| DPLW-28-BK 28" Black | Lightweight Nylon Hairnet |   | 28" | 144/BX 10BX/CS |
| DPLW-22-BR 22" Brown | Lightweight Nylon Hairnet |   | 22" | 144/BX 10BX/CS |
| DPLW-28-BR 28" Brown | Lightweight Nylon Hairnet |   | 28" | 144/BX 10BX/CS |
| DPLW-22-WH 22" White | Lightweight Nylon Hairnet |   | 22" | 144/BX 10BX/CS |
| DPLW-28-WH 28" White | Lightweight Nylon Hairnet |   | 28" | 144/BX 10BX/CS |