Our latex gloves are strong and elastic, and they offer reliable protection when handling food as well as for general purpose use.
We understand the demanding needs of the food processing industry and offer excellent customer care and stand behind all our products.
Because of our strict standards, the same high quality product you buy today will be the exact same quality a year from now.
All Materials used comply with the provisions of the FD&C which allow for repeated use in direct contact with food.
Ambidextrous
Available in powdered and powder free styles
Snug, secure fit
Chemical resistant and available in smooth and textured
Latex Gloves are available in small, medium, large, and extra large
Packed 100 per box/10 boxes per case
MSDS sheets available upon request.
Emergency delivery service at no extra charge for our established customers.
Check out our testimonials and see what customers are saying about Majestic!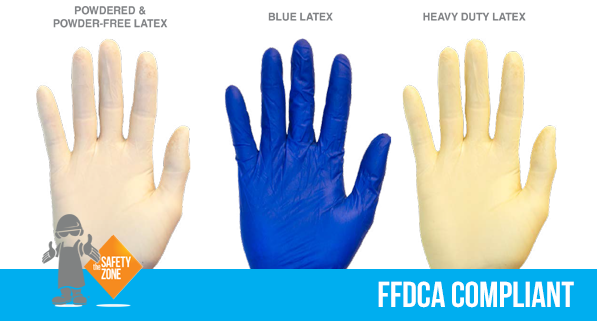 Manufactured by the high standards of all Safety Zone products.
| | | | | |
| --- | --- | --- | --- | --- |
| MODEL # | DESCRIPTION | MIL | SIZE | PER/BX/CS |
| GRDR-(SIZE)-1-T | Powdered Latex | 5 | SM-XL | 100/BX 10/CS |
| GRPR-(SIZE)-1-T | Powder Free Latex | 5 | SM-XL | 100/BX 10/CS |
| GRPR-(SIZE)-2X-1-T | Powder Free Latex | 5 | 2X | 100/BX 10/CS |
| GRPR-(SIZE)-1-T8 | Blue 12″ Powder Free Latex | 8 | SM-XL | 100/BX 10/CS |