Our nitrile gloves come in various colors, styles, sizes and thicknesses.
They are our Best selling glove and a reliable choice.
Pass inspection every time!
Trust Majestic Supply!
Because of our strict standards, the same high quality product you buy today will be the exact same quality a year from now.
All Materials used comply with the provisions of the FD&C which allow for repeated use in direct contact with food.
Ambidextrous
Available in powdered and powder free styles
Snug, secure fit
Certified 510K
MSDS sheets available upon request.
Emergency delivery service at no extra charge for our established customers.
Check out our testimonials and see what customers are saying about Majestic!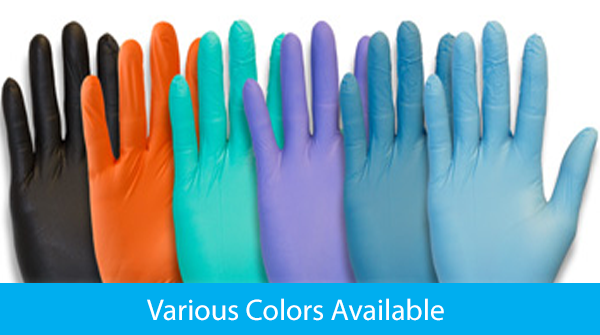 Manufactured by the high standards of all Safety Zone products.
| | | | | |
| --- | --- | --- | --- | --- |
| MODEL # | DESCRIPTION | MIL | SIZE | PER/BX/CS |
| GNPR-(SIZE)-1M | Blue Powder Free Nitrile | 3.5 | SM-XL | 100/BX 10/CS |
| GNPR-(SIZE)-2X-1M | Blue Powder Free Nitrile | 3.5 | 2X | 100/BX 10/CS |
| GNPR-(SIZE)-1-K | Black Powder Free Nitrile | 5 | SM-XL | 100/BX 10/CS |
| GNPR-(SIZE)-2X-1-K | Black Powder Free Nitrile | 5 | 2X | 100/BX 10/CS |
| GNPR-(SIZE)-1M-SZR | Indigo Powder Free Nitrile | 3 | SM-XL | 100/BX 10/CS |
| GNPR-(SIZE)-1 | Blue Powder Free Nitrile | 6 | SM-LG | 100/BX 10/CS |
| GNPR-(SIZE)-XL-1 | Blue Powder Free Nitrile  | 6 | XL | 100/BX 10/CS |
| GNPR-(SIZE)-2X-1 | Blue Powder Free Nitrile | 6 | 2X | 100/BX 10/CS |
| GNPL-(SIZE)-5-TB | 12″ Blue Powder Free Nitrile | 8 | SM-XL | 50/BX 10BX/CS |
| GNPL-(SIZE)-2X-5-TB | 12″ Blue Powder Free Nitrile | 8 | 2X | 50/BX 10BX/CS |