Our double palm glove is strong, durable and holds up well in extreme environments.
Always in stock and available when you need it!
Because of our strict standards, the same high quality product you buy today will be the exact same quality a year from now.
MSDS sheets available upon request.
Emergency delivery service at no extra charge for our established customers.
Check out our testimonials and see what customers are saying about Majestic!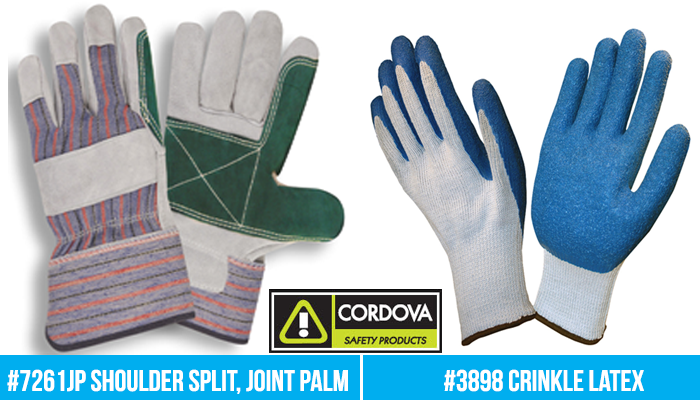 Manufactured by the high standards of all Cordova products.
| | | | | |
| --- | --- | --- | --- | --- |
| MODEL # | DESCRIPTION | COLOR | SIZE | PER/BX/CS |
| 7261JP (MENS) | PREMIUM QUALITY MEN'S SAFETY GLOVES |   | L-2XL | 6DZ/CS |
|   | Shoulder Leather Palm /Joint Palm Construction /Striped Canvas Back /Gunn Pattern /2.5-Inch Rubberized Safety Cuff |   |   |   |
| 7262JP (LADIES) |  PREMIUM QUALITY WOMEN'S SAFETY GLOVES |   | L-2XL | 6DZ/CS |
|   | Shoulder Leather Palm /Joint Palm Construction /Striped Canvas Back /Gunn Pattern /2.5-Inch Rubberized Safety Cuff |   |   |   |
|  3898 |  ECONOMY SAFETY GLOVES |   |   |   |
|   | 10-Gauge/Gray Polyester/Cotton Shell/Blue Crinkle Finish/Latex Palm Coating |   |  S-XL | 10DZ/CS |
|   |   |   |   |   |